As shoppers are getting ready with their wallets and credit cards, it's time to gear up for the Black Friday & Cyber Monday (BF/CM) season! According to NRF, 2020 was a record-breaking year for online shopping as it peaked 100 million consumers (up 8% YoY) despite the in-store limitations due to the global pandemic.
Whether your business is brick-and-mortar, online, or both, carefully plan out your marketing strategies and these include effective email marketing campaigns. According to Campaign Monitor, a total of 116.5 million emails were sent out in last year's BF/CM! And with thousands of emails to compete with, it can be challenging to capture your audience's attention. 
Check out our email marketing tips to prepare your business to stand out from the crowd for the biggest shopping weekend of the year!
1. Grow your email list
Before you start considering sending out emails to your subscribers, the first step is to prioritize expanding your email list before the big event. There are several ways to secure your customers' contact information both offline and online. For example, you can ask for their email address during the checkout process if they are shopping in-store, provide incentives for email subscribers only or create a form and/or pop up on your website to encourage visitors to share their information.
If you go for a BF/CM website pop up, make sure it comprises a headline that highlights the perks of subscribing to your newsletter, with eye-catching visuals to make it more appealing. This will give you a pre-list of customers who are interested in your products and expecting to hear from you.
2. Increase open rates with catchy email subject lines
Instead of using predictable subject lines, pay attention to your choice of words for higher open rates. Create a sense of urgency that can fit within 20-30 characters so that customers will choose to open your email amongst the dozens they will receive on Black Friday morning.
Use wordings that emphasize scarcity and deadlines, such as "Last chance" or "Only 3 days left" to drive a sense of last-minute urgency. Although, be cautious of using email subject lines that don't deliver what you promised. This can cause your subscribers to think that they are being misled – they might choose to unsubscribe or your emails might end up going to their spam folder. 
3. Choose the right Black Friday/Cyber Monday email templates
The content and subject lines of your email are important, but so is your email template. A well-designed email template will help your readers scan through your content and pull out the most vital information that you wanted to highlight.
Also pay attention to your email sizes to ensure that your content is correctly displayed in the inbox, in both desktop and mobile views.
With Como's dynamic email builder, you can easily create and send out personalized emails with dynamic content as well as videos and/or gifs. Make use of striking colors, different fonts, and compelling visuals to intrigue customers with your products.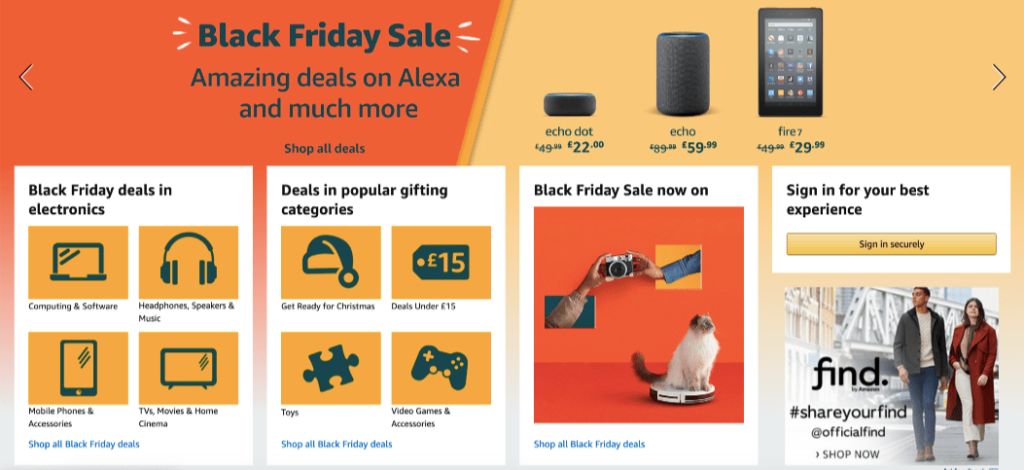 4. Give something extra to your loyal customers
Remember that you are not only focused on this certain shopping period: you are also looking forward to building long-term relationships with your customers. Emailing is an opportunity for your business to gain loyal shoppers even after this holiday season ends and expect them for next year's Black Friday/Cyber Monday. 
Spend extra time nurturing your most loyal customer because there is a high chance they'll purchase from your business during BF/CM. Don't forget to offer them exclusive and early promotions or free-of-charge gift-wrapping services to drive some additional revenue before the shopping weekend arrives. 
5. Extend your deals past Cyber Monday
In 2020, Black Friday Statistics revealed that 30% of consumers planned to shop on Cyber Monday compared to 24% saying they planned to shop on Black Friday. Hence, it will be relevant to extend your offers and deals, just for one or two more days, after Cyber Monday. 
The marketing of your extension is crucial in order to keep the momentum you've built before the start of the BF/CM season. Ensure that you maintain the exclusivity of your promotions to keep shoppers coming back to your store after the 5-day shopping experience. 
With the biggest shopping period just around the corner, it is ideal to start planning your email marketing campaigns as early as now. To get the most out of it, you must successfully capture your customers' attention that will deliver the seasonal conversions you desire for your business. We hope these tips will help you prepare accordingly for one of the busiest shopping holidays this year!
Have a great Black Friday/Cyber Monday season!