International Women's day is right around the corner! Launching seasonal campaigns is a great way to engage with your customers, focusing their attention on specific products or simply getting them back in store. On the occasion of International Women's day, make your customers feel appreciated with special campaigns and deals!
To know how your business can support & celebrate women and generate extra revenues at the same time, read the following article!
1. Offer free goodies with every purchase within 24-48 hours
A good way to build up traffic on your website, app or store is to offer free goodies on a minimum purchase amount. For Women's day, a gift for 'her' is the way to go. This could include a free cupcake, drink or make-up item. Make sure you are relevant and check out your customers favorite items in order to create a meaningful connection! Even if the gift is small, no doubt customers will feel grateful for this kind thought!
2. Create a special landing page for the occasion
When you're creating a dedicated landing page, you should pay extra attention to the product selection. You can include any product that your women customers are usually drawn to and offer promotions, coupon codes on this specific assortment. It is even better to display limited-edition products for this day! Such a landing page will help acquire new members, as visitors will have to enter their contact information in order to enjoy your special offers.  
3. Craft unique Women's Day Strategies
In 2019, Lyft celebrated Women's day (throughout the whole week) by offering a $10 discount code to those passengers who were visiting women-owned businesses or statues, monuments and museums connected to women's rights and fights. This is a very powerful way to show that you care about women issues. So be creative and carry out meaningful campaigns your lady customers will remember!
4. Create a special coupon code for this day
A personalized code can be sent to all women customers on International Women's day. It could be a coupon code getting them a percentage off or extra cash on their next purchase during the week. Companies like Sigma beauty or Sephora set aside a unique discount code for Women's day every year. This month, it is your turn to send out codes and recruit new customers, as well as encourage cross-sell and up-sell!
5. Give a free trial on a new menu addition, product or service
If you have just launched a new product or service, you could offer this item for free during a limited period of time for women to try it out. Remember, that free tastings work when your business is confident about the quality of the product or service that they're offering as it makes a lasting impression on your business.
6. Host Giveaways on your website and in-store
Organize a giveaway to celebrate the special day. To participate, customers would have to buy from your business worth a specific amount and comment 'International Women's day' on the giveaway post on your social media. By using a randomizer app, you can select the winner and send the items their way. You could even ask them to post a picture of it on their social media and with their permission, you could share it on your page as well!
7. Let Women dine for free!
In Dubai, the Ritz-Carlton celebrates women every March by rolling out the red carpet just for them! Guests can bring a lady-friend who can enjoy her afternoon tea at no cost. Do the same by offering free meals to one women per table or craft social media games and give a limited number of customers a chance to win a free meal!
8. Leverage the Buy One Get One offer
Huda Beauty released a new lipstick line on last year's International Women's Day and decided to create a BOGO deal including all of the new line's shades. Women couldn't resist, after all, you can never have too many lipsticks! This month, send out Buy One Get One deals to all your customers on specific products or allow any customer to get a free second item if they come with a women friend!    
9. Set up Gamification for better user engagement
Create fun games to engage women on your social media pages and app. All the user needs to do is spin the wheel or scratch a card and they get a chance to win a gift or discount. This helps you get new members, drive conversion, hike your average ticket.
10. Give women gift cards they can use during their next purchase
Set up a digital gift card your clients can acquire and offer! Bloomingdale's online store offers gift cards worth $10 to $1000 that customers can spend on clothing, furniture or food! Amazon also offers gift cards which are sent by mailbox right to the person's doorstep.
It is important to note that International Women's day is not only about the offers and discounts. It is about showing your appreciation for women in a variety of ways…
1. Create a Women's day theme on your website, social media and app
Create a special design for your landing page, a themed post or special stories for your social media. Note that purple is considered to be the official color of the day as it represents dignity and justice. To go on extra mile, you could host educational campaigns that focus on female achievements and successes throughout history or include a button to allow donations to non-profit organizations for women.
2. Create your own hashtag to celebrate the special day
Create your own hashtag or tag #internationalwomensday and #8thmarch to push your post to a lot more users, some of them being your potential customers! Every year, there is a new women's day hashtag that circulates during the month of March. This year, it is #ChooseToChallenge which is a call-to-action to challenge the state of affairs by raising awareness against bias. So, remember to incorporate this hashtag in your social media posts for more exposure.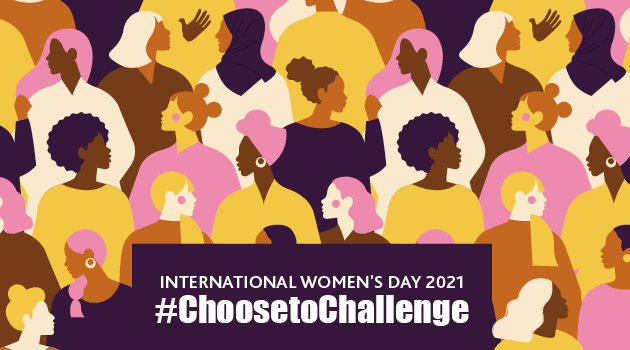 3. Design a newsletter, highlighting International Women's Day
Creating an International Women's day newsletter is a really creative way to show your customers that you care about women's rights and gender equality. To make it more interesting, tell the story of some of your women customers or employees!
All in all, there are endless ways to market your business on International Women's day. The important thing to keep in mind is that this day is less about the offers and discounts you can give away and more about celebrating women and raising awareness on the challenges they face.  
We at Como would like to wish you all a Happy International Women's Day!