On March 17th, millions of people worldwide celebrate St. Patrick's Day. This Irish religious holiday has evolved over the centuries into a global celebration of traditional Irish culture, with a day for songs, drinks, and parties. 
According to National Retail Federation's (NRF) survey, US consumers are expected to spend an average of $42.33 per person on 2022 St. Patrick's Day items, up from $40.77 in 2021, making it one of the revenue peak days of the year. With such a fresh flow of customers eager for a good experience, your business should take advantage of this opportunity to increase sales further. 
Bars and restaurants are among businesses that can leverage better St. Patrick's Day buzz. Still, they usually fall short by creating marketing campaigns and offerings focusing only on that specific day, missing out on a chance to build new long-term customer relationships and regular visitors, keeping their businesses booming all year round.
Here are four different learnings to turn your holiday visitors into loyal customers who will keep returning to your business for the regular season. 
1. Money is everything
The numbers show why it can be a mistake to emphasize only one-time sales rather than engaging customers and building long-term relationships with your clients. Consider these data points:
The probability of selling to an existing customer is 60 – 70%, while the probability of selling to a new prospect is 5-20%. (Invesp)

Existing customers are 50% more likely to try new products and spend 31% more when compared to new customers. (Invesp)

82% of business leaders state that customer retention is more cost-effective than new acquisitions (Martech Zone).
If you want to create a solid positive customer relationship with your first-time clients while maintaining your existing base engaged, it's essential to have a comprehensive data-driven marketing plan, carefully considering how you want each customer to think of you.
Creating loyalty benefits and campaigns to be redeemed in a second or third visit can insight your new clients to return to your business and join your engagement program. You can also set the benefits to be used only during a historically low day, leveraging the excitement from the holiday to gain incremental revenue.
Your existing clients should feel valued with exclusive member-only offers or special invitations to spend the day in your business. Actions like these help keep them engaged even during special dates like St. Patrick's.
2. Experience is everything
The first time a customer sets foot in your establishment will leave a lasting impression. From the greeting's moment until closing the check, a positive first experience will influence their decision to visit your restaurant for a second time. 
To make that happen for a particular day like St. Patrick's, you'll need to ensure you have enough staff and products to handle the extra foot traffic and that your team is ready to deliver a positive and unforgettable experience. 
Revamping your business' visual merchandising and decoration for St. Patrick's, along with a customer-centric mindset from your staff, will make guests feel comfortable and valued from when they enter until they leave.
3. Loyalty is everything
We already know that retaining customers is critical to your business's success and costs much less than acquiring new ones. Therefore, build relationships with your customers by inviting them to join your loyalty program and downloading your branded mobile app.
In this way, you can gather data and learn from your customer's behavior while engaging and communicating with them in a long-term relationship. It's a never-ending cycle of learning and new offers better suited to your most loyal audience.
4. Feedback is everything
Based on a 2020 Microsoft survey, 77% of consumers stated a more favorable view of brands that ask for and accept customer feedback. Allow them to express their opinion by sending out forms, surveys, or in-app ratings and reviews.
Getting your customers to rate your products offerings, deals, and services will help you with insightful information to make better decisions and improve customer experience by offering promotions and attracting new consumers with the same profile.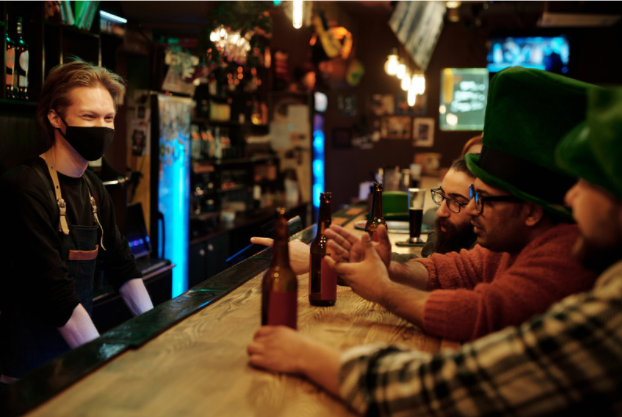 This St. Patrick's Day, your establishment could be just another business using one-time specials to bring in new customers or share a light into a winning strategy on creating a long-lasting relationship based on experience, data, learnings, and loyalty.
See how Como can help you engage customers, boost sales, and turn one-time visitors into restaurant regulars. Contact us or request a demo with our experts today.